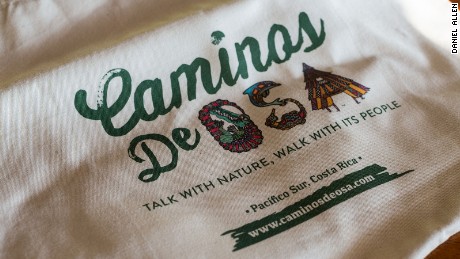 Time to glitter: New trails a boost for Costa Rica's Osa Peninsula
Daniel Allen, CNN • Published 29th June 2017
(CNN) — Juan Cubillo Gomez, a veteran orero (artisanal gold miner) on Costa Rica's Osa Peninsula, is proud of el museo ("the museum") that takes up one corner of his modest wooden house.
An array of artifacts, ranging from ancient weighing scales to a lump of rock laced with gold-bearing veins, pays testament to the long history of small-scale prospecting in the area. While Gomez feels a strong bond with the jungle surrounding his home, he has always eked out a precarious existence. The life of a Costa Rican orero has never been easy.
"Many people think being a gold miner is a romantic way of life, filled with thrills, riches and adventure," says the weatherworn 50-something. "Let me tell you, it isn't. There are still over 200 oreros on the Osa Peninsula, but their lives are unbelievably tough. Most live on the edge of society."
But thanks to a new community-based tourism initiative, life has recently become a little easier for Gomez and his large family.
The Caminos de Osa, a trio of trails that runs though the heart of the Osa Peninsula, has brought a growing number of tourists to his door. They each pay a small fee to see Gomez pan for gold in a nearby stream, learn about gold mining and enjoy some traditional Costa Rican hospitality.
"As they walk along the Caminos de Osa, people can witness the same fantastic wildlife that exists inside Corcovado," says Julieta Chan, the initiative's executive director. "But more than this, they also get to immerse themselves in the peninsula's traditional culture, and feel that they've given something back to local farmers and artisans committed to protecting unspoiled Costa Rican nature."
Fringe benefits
Located close to the Panamanian border on Costa Rica's Pacific coast, the Osa Peninsula is a mecca for those into wild nature.
Barely twice the size of New York City, it boasts an astonishing 2.5% of the Earth's total biodiversity.
In Corcovado National Park, which covers a quarter of the peninsula's land surface, species such as the scarlet macaw, white-headed capuchin, ocelot, jaguar and harpy eagle inhabit a pristine tract of tropical lowland rainforest.
While such amazing biodiversity is a cash cow for Costa Rica, the communities living around the park have yet to really feel the benefit. Nearly 50,000 tourists visited Corcovado in 2015, but hardly any of their tourist dollars trickled down to villagers living outside the park boundaries.
Caminos de Osa, which began operation in late 2015, aims to realign this skewed dynamic.
The initiative's three hiking trails, which each skirt Corcovado, connect locally owned accommodations and artisanal experiences. This means they can be marketed as destination packages, instead of stand-alone businesses.
"More than 40 grass-roots entrepreneurs based along these hiking trails have now been specially trained," says Lana Wedmore, an American who sits on the Caminos de Osa's board of advisers. "People like Juan Cubillo Gomez have been taught things like basic English and accounting. It helps, of course, when the people here are some of the kindest and humblest in Central America."
Treasures of the trail
Some of the most stunning nature on the planet isn't the only draw. The Caminos de Osa give hikers a chance to see the Costa Rican way of life up close.
In addition to Gomez's gold mining, attractions on the Camino del Oro ("Trail of Gold") include Rancho Raices, a small-scale cocoa plantation, and the Trapiche Don Carmen, a venerable sugar cane mill.
At the latter, hikers pay a small fee to see owner Johnny Rodriguez manufacture a range of dangerously moreish sweet products from locally grown sugar cane.
These include sobado, a highly addictive candy made with peanuts and powdered milk, and miniature mounds of compacted brown sugar, known as tapa de dulce (literally "sweet caps"), which Rodriguez sells for $2 each.
"The Caminos de Osa has helped us to preserve a custom," says Rodriguez. "All the cane we use is grown organically and on a small scale, so there's limited impact on the local environment. Nobody involved in this initiative is looking to get rich. We just want a way to live in harmony with nature.
Related Videos